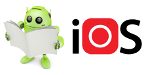 Accounting for 91.1 per cent of smartphones worldwide, Apple's iOS and Google's Android operating systems dominate the mobile market. For the past five years, these two platforms have grown exponentially with little to no competition.
Former industry stalwart BlackBerry were hampered by a lack of innovation, while the amount of Windows Mobile devices has yet to make any notable influence on iOS and Android's phenomenal lead.
Driving this rapid expansion and adoption by a global audience is the number and variety of apps currently available on both platforms. While several titles crossover between the two, there are certain distinct differences that have advantages and disadvantages for both users and developers.

History of iOS and Android
With the launch of the iPhone in June 2007 came Apple's first version of i0S. At first, third-party applications were not supported but a native development kit was released early the following year.
In July 2008, the revised iPhone 3G was released and the Apple App Store become available to users. This online marketplace only contained 500 third-party applications, but over ten million titles were downloaded the first weekend.
Just a month later the first Android device was released, which was closely followed by Android Market, a place for apps to be downloaded. While iOS continued to dominate for the next couple of years, Android's popularity increased and in August 2010, it was announced that sales of Apple's iPhone had been overtaken by its main competitor.
Today, iOS has more apps available to buy than Android, but both platforms are rapidly approaching 1,000,000. Although Apple recently celebrated 50 billion app downloads, Android users are currently acquiring 500 million more per month. This means that in addition to sales, Android will soon win the apps war as well.
Availability of Android
One of the reasons behind this rapid growth is that Android apps are available from multiple sources, as opposed to the one and only Apple App Store. Although Google Play, formerly Android Market, remains the most popular outlet for the majority of users, there are several benefits of downloading elsewhere.
Most of these app markets offer something different to tempt users into a download, from fee apps and promotions to recommendations. Along with a wider variety of choice for consumers, it also increases exposure and ultimately income for developers.
One of the biggest alternatives is Amazon Appstore, which has a free app of the day promotion and some featured premium titles. You can even try out apps in your browser before you buy using the Test Drive feature.
GetJar, Slide ME, F-Droid and Appoke are yet more marketplaces containing a range of content for global audiences. However, consumers need to be mindful of security issues while developers should consider each marketplace's terms and conditions before submission.
Android and iOS demographics
Another reason why Android has enjoyed continued success all around the world is because of the number of devices available from numerous manufacturers. While Apple's ideology focuses on creating the single best phone, which subsequently means a high price point, Android has huge appeal among consumers with a low disposable income in emerging markets.
Although this is significant for manufacturers, as Apple now recognises the need to release a cheaper, more available iPhone, it is also critically important for app developers.
Apple users tend to be slightly younger and more affluent, whereas Android consumers have a broader content category reach. Areas like social media, news and e-commerce are more popular on iOS, but Android has a greater number of media users in each category. Therefore, developers need to decide whether audience size or engagement is more important when it comes to creating an app.
Potential for developers
Market insight firm Canalys believes that Android shipments will reach a billion smartphones a year in 2017. If current trends continue, the amount of apps and consumer downloads will also continue to grow at an incredibly quick rate.
However, it is interesting to note that several analysts think Windows Mobile will dramatically expand its reach at the expense of Apple. Even so, Android's predicted market share will be 67.1 per cent compared to 14.1 per cent for Apple and 12.7 per cent for Microsoft.
Therefore, it is clear to see that Android will be the dominant portable device platform for the foreseeable future. Although Android has the potential to reach a formidable audience, developers should remember that iOS attracts loyal and engaged mobile users with a higher income.
https://www.bermotech.com/wp-content/uploads/2013/10/android_vs_ios1.png
75
150
Bermotech
https://www.bermotech.com/wp-content/uploads/2019/04/Bermotech.png
Bermotech
2013-10-11 19:26:57
2014-01-23 13:34:43
Android vs iOS