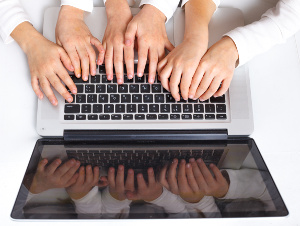 We need to encourage the youth of today to take more of an interest in coding and computers beyond the latest video game consoles and Christmas gadgets. We cannot let our children fall behind developing countries, only to go on to become consumers of the latest software. The UK Government certainly recognises the importance of the digital age and is introducing "Computing Science" to schools. This is important step forward.
The world is constantly evolving around us and computers are now a part of our everyday lives. No matter what industry we choose to go into, whether its the environment, engineering and even nursing etc, we can always be sure of one thing, no matter what job you do computers will definitely be involved.
We are living in highly competitive and interconnected globalised world and in order to keep up and stay ahead with the world's emerging economies we cannot afford to be a nation of consumers.
We need to give to our children a head start in today's digital age, and coding lessons at an early age will definitely give them those all important life long skills. Coding will not only enable your children to work and program computer software at an early age but it will also condition their young minds into thinking methodically as well as rationally and will go on to prepare them for – the working environment of the future.
We have to take example from the prominent computer luminaries of our times like Steve jobs, Bill Gates or Steve Zuckerberg. These guys learned coding at and an early age which in turn helped them to go on to become visionaries of the future. If you expose your children to computer programming a from an early age, hopefully they will also become the techno wizards of the future but unless we give them a platform to hone their skills on we may never know.
We must look at people like Nick D'aloisio who developed an application for a mobile device at a grand age of 12 which he subsequently went on to sell to Yahoo for £30 million pounds. If you can introduce your children to coding from an early age, who is to say what they can go on to achieve in later stages of their lives.
The introduction of computer science and coding at an early age has been proven as being highly beneficial to student later on in their lives. Parents however have responsibility as well. Instead of taking an easy route and buying their kids the latest ipads or playstations they should really think about coding devices like Raspberry Pi. These are cheap and easy to use coding devices that are perfect for young minds to learn from and get ahead in life.
Youngster can also take part in the hour of code initiative, attend coding tech camps and learn from computer science online tutorials.
You might have the next John Carmack (a popular computer game creator and multi millionaire) in your home, but unless you introduce him to computer programming at an early stage of his development you will never let him realise his true potential.
Food for thought!
https://www.bermotech.com/wp-content/uploads/2013/07/ChildrendCoding.jpg
226
300
Bermotech
https://www.bermotech.com/wp-content/uploads/2019/04/Bermotech.png
Bermotech
2013-07-23 09:55:23
2019-04-12 19:20:14
Computer Science in UK Schools